Your best defense against Spam.
Learn about MX Logic now!
What is MX Logic®, and how is it different?
MX Logic® is a managed service whose entire purpose is to eliminate EMT, or Electronic Message Threats, and thus to help users avoid their potentially damaging effects:
Viruses/Worms – Network infrastructure damage, information theft, loss of network control
Spam – Productivity killer, annoyance, hardware/bandwidth resource consumer
Inappropriate Content – Opens one to sexual harassment suits, productivity killer
Dangerous Attachments – Network infrastructure damage, information theft, loss of network control
Phishing (Fraud) – Financial loss, identity theft, information theft, productivity killer
Flood – Loss of e-mail service, loss of e-mail server functionality
Denial of Service Attacks (DoS) – Loss of e-mail service, loss of e-mail server functionality
MX Logic's unique approach is called EMTi, or Electronic Message Threat Interdiction. Interdiction is fundamentally different, because it allows only good emails to reach your mail server: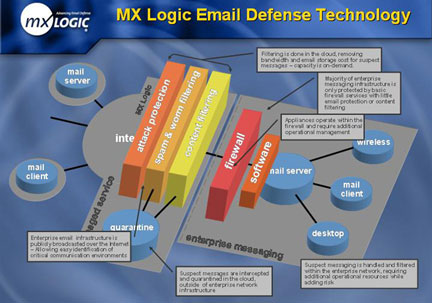 If MX Logic EMTi
interdicts messages before they reach my servern, will I have any control?
Yes, you will be able to control your own definition of EMT using MX Logic's Message Center. Rather than being responsible for keeping up with the myriads of tricks that senders of EMT use, you will simply be able to indicate how strict or sensitive you would like MX Logic to be.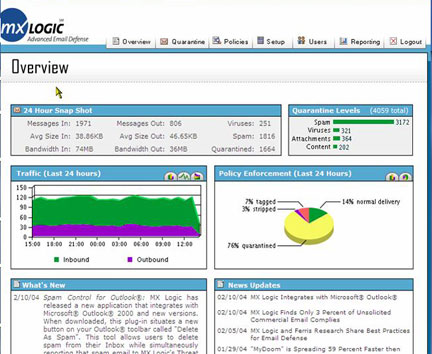 How will MX Logic be implemented into my domain and how will it be priced?
MX Logic will be offered at 3 levels of pricing to fit your needs. Your total fee for the service will depend on how many mailboxes you have on your domain. In other words, when MX Logic is purchased, the domain owner will be charged for each existing mailbox within the domain, including mailboxes created for distribution lists. For example, if a customer with 5 mailboxes activates MX Logic, at the price is $2.99 per month per mailbox, the fee would be 5 x $2.99 per month for a total fee of $14.95 per month.
| | |
| --- | --- |
| # Of Mailboxes | Price Per Mailbox |
| 1-5 | $2.99 |
| 6-10 | $2.49 |
| 10 or more | $1.99 |
Clients will be billed for the remainder of the 12 month hosting plan , and Web Design of Palm Beach will add these new charges upon hosting renewal. In the event you are dissatisfieed with MX Logic, it may be manually de-activated via your mail manager icon in the control panel or you may contact us directly to deactivate it.

Clients MUST notify Web Design of Palm Beach in order to retain credit for any un-used portion of the contract, as we DO NOT monitor control panel activity. Credits will be issued agaianst future hosting renewal fees.
Only one level of MX Logic service is currently offered, so all MX Logic users will benefit from the full set of anti-virus and anti-spam features.
How to activate MX Logic?
Please contact Web Design of Palm Beach via e-mail, support@webdesignofpalmbeach.com or directly at 561.262.5886. Please be sure to include your domain name and we will handle the installation and domain modifications for you.
Clients are responsible for all post installment configuration and sensitivity settings. Web Design of Palm Beach will be available for on-site service calls to guide clients thru the configuration process. (Hourly rates apply)
Once MX Logic is purchased, there is a 1-5 business day waiting period for MX Logic to enable the account on MX Logics servers. Generally, if you purchase your MX Logic account by Thursday at 3:00 pm (Eastern Time), you should be enabled by the end of Friday. This is not "set in stone" but is a good rule of thumb. If you purchase your MX Logic account after 3:00 pm (Eastern Time) on Thursday, the account may not be enabled until the following Tuesday.

You will be able to access your MX Logic account through your Mail Manager or Webmail interface.

Once MX Logic has been activated and up and running we suggest you go to the Mail Manager and set your 'Default' to forward to a mail box you are using.
If you have questions please email us support@webdesignofpalmbeach.com